HELP WANTED
Allied Frozen Warehouse in Cheektowaga and West Seneca is looking to hire several Full-Time warehouse personnel. The position offers a competitive compensation package including Teamster Health Care. If a family member, friend or neighbor is interested, they should apply at the Cheektowaga Facility located on Allied Drive off of Broadway between Harlem Rd and Union Rd.
Read More...
LABOR WALK FOR NY STATE SENATOR TIM KENNEDY
A FRIEND OF LABOR
Teamsters Local #264 is proudly sponsoring a Labor Walk for State Senator Tim Kennedy of the 63rd District. Tim is the endorsed Working Family Party Candidate and has a strong voting record for Labor Related Legislation. He has walked many picket lines, supports the Living Wage Campaign and is the endorsed candidate of the AFL-CIO.
Please consider taking some time to volunteer on the evening of Thursday, August 28th from 5pm to 9pm to walk with Tim canvassing the 63rd District. We will meet at Teamsters Local #264, 35 Tyrol Drive, Cheektowaga at 4pm. Food and refreshments will be served.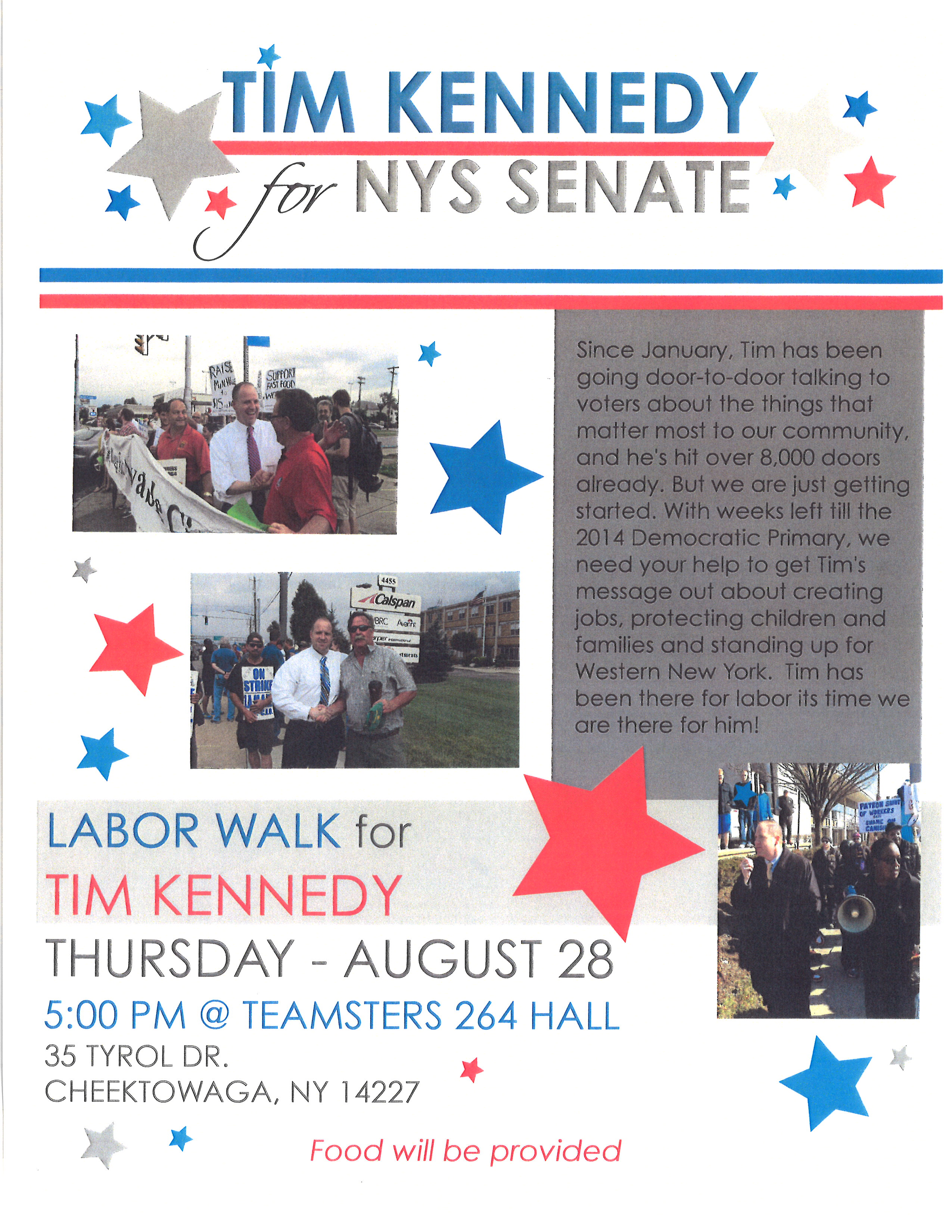 Teamsters Praise Obama Crackdown On Companies That Abuse Workers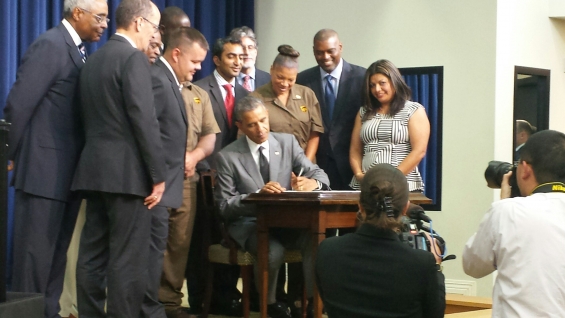 (WASHINGTON) – The International Brotherhood of Teamsters strongly supports President Obama's executive order to crack down on corporations that break laws but still win government contracts.
Two members of the Teamsters Union stood with President Obama today to announce the new policy. They are Mike Petro of Baltimore, a UPS driver with Teamsters Local 355, and Etta Epps of Landover, Md., also a UPS driver, with Teamsters Local 639.
"I am so proud of how my union makes sure I earn a good wage, health care benefits and retirement security," Petro said. "As a taxpayer, I believe the government should support companies that let workers support themselves through collective bargaining."
"My Teamster contract guarantees that I earn equal pay to a man who does the same job I do," said Epps. "The government shouldn't compensate companies that attack women by attacking their unions."
"Taxpayers shouldn't reward lawbreakers that bust unions, steal wages and endanger workers," said Teamsters General President Jim Hoffa. "President Obama is right to make it harder for companies that abuse workers to receive federal contracts.
"Corporations now know they can break wage and hour laws with impunity. Men and women who work hard and play by the rules should not be sending their tax dollars to companies that mistreat their employees. Bad actors don't deserve the financial support of the federal government."
Founded in 1903, the International Brotherhood of Teamsters represents 1.4 million hardworking men and women throughout the United States, Canada and Puerto Rico. Visit www.teamster.org for more information. Follow us on Twitter @Teamsters and "like" us on Facebook at www.facebook.com/teamsters.
WNY Area Labor Federation President Richard Lipsitz Named Vice Chairman Of The Erie County Industrial Development Agency By Unanimous Vote

Western New York AFL-CIO Area Labor Federation (WNYALF) President Richard Lipsitz Was Named Vice Chairman of the Erie County Industrial Development Agency (ECIDA) Today (Wednesday, July 16th) by a Unanimous Vote – Which Not Only Places Another Feather in the Cap of Organized Labor, But Helps Ensure the ECIDA Will Provide "Good Jobs" Through the Industrial Development Projects it Funds With Taxpayer Dollars.
"It's Important," Lipsitz (Pictured Above Listening to Two Area Young Unionists) Told WNYLaborToday.com After This Morning's Vote. "It Was the (Erie) County Executive (Mark Poloncarz) Who Nominated Me and He Too Understands That the IDA Needs to Help Create 'Good Jobs' Through Industrial Investment in the Community. Labor's Goal Coincides With Community Benefits, 'Benefits' That Help 'Ordinary People' Make a Good Living – 'With' Benefits. That's What it's All About."
Lipsitz, Who's Served as an ECIDA Board Member For Past 2.5 Years, Was Appointed to the Board by Erie County Executive Mark Poloncarz.
Lipsitz Has a Long Union History, Which Stretches Back Into the Mid-70s Here in Western New York. Currently Serving as Teamsters Joint Council No. 46's Political Action Coordinator, Lipsitz Has Also Held a Number of Local Labor Positions Over the Years - Including Union Steward and Union President, Working Previously With the Service Employees International Union (SEIU) Before Joining the Teamsters. He's Served as President of the WNYALF – Labor's Area Umbrella Organization That Oversees and Directs Five Individual Labor Councils: Buffalo; Niagara-Orleans; Dunkirk; Jamestown; and Cattaraugus-Allegany – For Nearly Three Years Now.
Lipsitz's Elevation to Vice Chairman of the ECIDA Came After Brenda McDuffie, President and Chief Executive Officer of the Buffalo Urban League, Was Named Chairman. McDuffie, Lipsitz said, Has "Similar Views" of Organized Labor Regarding the IDA Helping Create "Jobs That Provide a Future," as Well as Maintaining a Host of Minority and Women Hiring Goals on the Construction Projects Funded by the IDA.
In Addition to Lipsitz, Buffalo AFL-CIO Council President Michael Hoffert Also Holds a Seat on the ECIDA's Board of Directors.
Working in Tandem, Lipsitz and Hoffert Were Successful Earlier This Year in Pushing Forward a Local Hiring Provision/Workforce Standards Agreement – Which Ensures Local Workers are Hired and Paid Good Wages When the ECICA provides Taxpayer Dollars to Help Fund Major Construction Projects in Erie County (Go to: www.wnylabortoday.com/index.php?src=news&refno=3385&category=Buffalo).
The Two Told Your On-Line Newspaper Back in April That the Workforce Standards Agreement Was a "Tremendous" Economic Development Benefit That Will Work to Create Good-Paying Jobs for Local Workers.
As Representatives of Working People, Lipsitz Also He and Hoffert Support What's Called Recapture Methods to Reclaim IDA Taxpayers Dollars When "the Hiring Goals of the Project are Not Met" by Funded Developers.
For Example, the Workforce Standards Agreement Will Apply to Veteran Buffalo Developer Mark Croce's $18.1 Million Hotel/Hospitality Project to Convert the Long-Vacant and Historic Curtiss Building in Downtown Buffalo Into a Boutique Hotel. Croce Recently Received Sales and Mortgage Tax Breaks Totaling $685,000 From the ECIDA, Which Will Help Create a 67-Room, Boutique Hotel, Fine Dining Restaurant, Lounge, Spa and Fitness Center Within the Old Curtiss Building on Franklin Street. The Project is Also Expected to Create 30 New Jobs.
INDEPENDENCE DAY 2014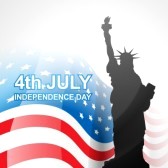 Let us celebrate this Independence Day by appreciating the values of our Founding Fathers who built this great country that we live in. As Americans, we must always appreciate the freedom, opportunities, equality and justice that we enjoy each day. These liberties were established and defended by generations of brave men and women. As we celebrate our independence, let us all reflect on the military members who have served and continue to serve in our Armed Forces. Their tremendous courage and sacrifice has given us freedom.
COSTANZO ROUTE DRIVERS VOTE TO JOIN LOCAL 264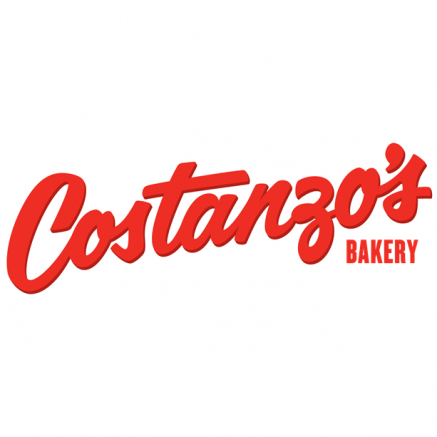 Workers Vote for Strong Partner to Address Issues on the Job
PRESS CONTACT
Tony Vaccaro
Email:
Phone: (716) 668-8007
(CHEEKTOWAGA, N.Y.) – Today, route sales drivers at Costanzo's Bakery overwhelmingly voted to join Teamsters Local 264 in Cheektowaga, N.Y. despite a concerted effort by the company to discourage unionization that included weekly captive audience meetings and intimidation.
The workers, who sell and deliver baked goods across Western New York, approached Local 264 in early May looking for help to address problems that had grown out of control at Costanzo's Bakery.
"We were being treated poorly by management who was adding more and more stops to our routes without compensation," said Kevin Schmidt a sales route driver at Costanzo's. "No matter how we approached the company, they ignored us, but with the Teamsters representing us, they won't be able to ignore us any longer."
Schmidt praised the local for all the work they had done leading up to the vote, including getting a driver reinstated after the company fired him.
"We filed an unfair labor practice complaint after Costanzo's fired a driver as a way, we believe, to intimidate other workers who wanted a union," said Tony Vaccaro, Local 264 business agent. "Despite all of the anti-union tactics management threw at these guys, they remained united and voted for their union."
Founded in 1903, the International Brotherhood of Teamsters represents more than 1.4 million hardworking men and women throughout the United States, Canada and Puerto. Follow us on Twitter @Teamsters and "Like" us on Facebook at www.facebook.com/teamsters.
UPS MASTER AGREEMENT GOES INTO EFFECT

From the Teamsters UPS National Negotiating Committee regarding the 2013 National Master United Parcel Service Agreement, All Supplements, Riders and Addenda
April 23, 2014 - The 2013 National Master United Parcel Service Agreement and all Supplements, Riders and Addenda are in effect starting April 25, 2014. The Teamsters National Negotiating Committee took this action pursuant to Article XII of the International Brotherhood of Teamsters Constitution.
The economics contained in the Agreement are retroactive to August 1, 2013. UPS has committed to expediting payment of your retroactive wages. The retro check will be a separate check from your regular paycheck. UPS owes Teamster members and funds over $300 million in wages and contributions. It is time to make Teamster members and their funds whole.
The changes to health care that were approved by a majority of UPS Teamsters in June 2013 will go into effect June 1, 2014. If your health care is changing as a result of this Agreement, you will be receiving information in the coming weeks regarding your benefits.
It was an honor to represent UPS Teamsters across the country in these negotiations. Through our united efforts we have negotiated a strong contract that includes pay increases, excellent benefits and new language that protects our jobs and improves our working conditions. We would like to thank the UPS Teamsters across the country who have waited patiently while our Teamsters collective bargaining process was completed.

Download:


UPS Final.pdf


Splash Lagoon Discount Tickets ONLINE
To all Teamsters Local #264 Members:

We are excited to announce that Teamsters Local #264 has signed up for the Splash Lagoon Corporate Access Pass Discount Ticket Program. As a member of this program, you are now able to buy discounted tickets for Splash Lagoon with the added convenience of printing your admission tickets from your computer and presenting them at the entrance turnstiles bypassing ticket booth lines. Purchasing admission tickets has never been easier!

You may purchase tickets immediately by visiting our exclusive Splash Lagoon Corporate Access Pass Store in one or both of the following ways:

#1: Clicking on the following personalized online store web link (URL):
https://tickets.splashlagoon.com/affiliate.asp?ID=AA7ACD4D-088E-450A-A468-0C2B0D1E27A1


#2: Password: Teamsters@264 - follow the prompts and print the tickets on your computer.

#3: Tickets are date specific. You will need to choose a date for ordering.

We hope you and your family are able to enjoy Splash Lagoon this season!
UPS CONTRACT UPDATE

The Ohio Rider has been passed by the membership. Still outstanding are the Western Pennsylvania Supplement, Local 623 Supplement and the Local 89 Air Rider. Ballots will be mailed for the Local 89 Rider this week and will be counted on April 10, 2014.
Union Honors Contributions of Female Members

March is Women's History Month, a time to reflect upon and celebrate the contributions American women have made to society.
The Teamsters Union has always stood as a bastion of hope for all working people, regardless of gender, race or creed. The Teamsters Union was the first to secure a gender-blind, color-blind contract, and throughout our history our leaders have demanded equality for all members. But it is Teamsters themselves who have upheld the values of this organization and who have stood together to face and overcome adversity.
Teamster women have made significant contributions to the work force over the years, bravely fighting for economic and social justice. Teamster women, in particular, have been engaged and active politically, socially and economically, helping pass important legislation, volunteering in their communities and making life better for us all.
Teamster Women
According to the average high school history textbook, the history of women in the labor movement can be told in a few short paragraphs about Mother Jones and some women sewing shirts in New York City. Apparently the authors never asked any working women about their story. If they had, they would know that many women have been active in the labor movement from the very beginning, leading the way for passage of critical labor legislation over the years. And Teamster women, although not usually involved in the typical heavy work of the members in the early days, were critical to the union's success.
Dan Tobin, elected General President of the Teamsters in 1907, recognized the value of organizing women as a way to strengthen the union's voice and increase membership. He set out to bring union protection to working women across the country. His plan quickly stalled, because while most men understood the plight of working women, they thought it folly to give full membership to a group that could not even vote. It would take two World Wars and a national epidemic to change their minds.
Undaunted, Tobin and other like-mined Teamsters found other ways to aid working women. Representatives of the union helped women workers, referred to as "auxiliary members," organize, plan strikes and win fair contracts in the workplace. Tobin also used the Teamster magazine as a way to promote awareness of issues related to women and children in the labor force, which set it apart from many other publications of the time.
In 1916 the Teamsters were involved with a landmark contract for women laundry workers in Chicago. The union helped the workers successfully organize and create their first all-women negotiating committee. The committee won a strong contract, including a non-negotiable provision demanding equal pay for white and black workers. Following this success, the door was opened to organize more "auxiliary members" in the laundry, food and other related industries.
Equal Pay For All
By 1917 women were being trained in the motorcar and truck industries as men prepared to join the war overseas. They stepped into many other jobs previously held by men and were also trained to keep local unions going during the war.
With the great flu epidemic of 1918, Teamster women found themselves doing much more than keeping the home fires burning. Women truck drivers were needed to transport medicine and supplies to hospitals and rural areas. These women would complete a day's work, then pick up supplies to deliver to farm families. At each stop they would help with chores and get the family settled before moving on to the next stop. Their courage and strength was incredible. The union and the country would not have made it without them. Their deeds were lauded at the time, but largely forgotten today.
As a tribute to the tremendous efforts of women and minorities in the war, the Teamsters pushed for wage equality, adopting "Equal pay for all" as their union slogan in 1919.
After a decade of post-war prosperity, the Great Depression of the 1930s brought decreases in membership for all unions. Scarcity of jobs and fears of unemployment forced workers to take whatever wages they could get. In 1934, Teamster men and women in Minneapolis took a stand against poor treatment from companies and city officials. They called a general strike, which became the epicenter of clashes between labor and management forces throughout the nation. Women were key players in this long, bloody strike that led directly to labor reform acts and the establishment of the National Labor Relations Board. They set up an infirmary, soup kitchen and other services for strikers, which ran 24 hours a day. They also raised funds to support workers and even created a newspaper to keep strikers up to date on the situation.
Rosie the Riveter Joins the Union
The bombing of Pearl Harbor brought millions of new women into the work force, tackling jobs in war production, transportation and other essential industries, many with workers represented by the Teamsters.
Recognizing the country's dependence on their efforts gave Teamster women the leverage they needed to demand and win full union membership in 1943.
After the war, women stayed active in organizing and also turned their attention to politics, taking an active role in the union's new political action program, DRIVE (Democrat, Republican, Independent Voter Education). They became very adept at bringing attention to important labor issues.
The Future Is Now
These are just a few of the many accomplishments by Teamster women over the decades.
Teamster women have never stopped blazing trails in the union and in the work force. They have pushed for improved workplace standards and pursued nontraditional jobs in every field.
The number of women in the work force is expected to increase dramatically in the next few decades, creating even greater need for strong women in labor unions. Dan Tobin was right: Women are valuable members, bringing strength and character to the union.
He foresaw a strong future for them in 1947 when he said, "Women members are coming into their own. In the future they will be out in ever increasing numbers…an army of labor amazons that the exploiters will learn to fear."
Today, we are thankful for the contributions of those who have helped make our union what it is: a diverse, ever-growing organization that fights for justice, equality and fair treatment in the workplace.
BUFFALO NEWS ARTICLE on March 1, 2014 - 12:01 AM
A Feb. 15 News article fantasized the Manley family of Clarence as saviors to a community and its workforce. There are facts that were left from this account. For over a half-century, the Teamsters Union proudly represented the workforce at the former Will Poultry while the company profited and the union members provided for their families. They made a living wage with dignity and respect that all workers deserve but are not always provided.
Many workers were dismissed after the Manley family took over, and for those families the hardships they are currently enduring are real. Moms and dads who have lost their positions were guilty of no infraction other than a company claim that it was in its best interests not to proceed with a union. The war on working people is being waged right here, on our front step.
Darrin Ziemba,
Secretary/Treasurer
Teamsters Local #264
YOU CAN CLICK ON THE TITLE "WAR ON UNIONS IS BEING WAGED ON OUR FRONT STEP" TO GO DIRECTLY TO THE BUFFALO NEWS WEBSITE TO VIEW ARTICLE AND COMMENT.
Teamsters and Members of Congress are standing up against the TPP and Fast Track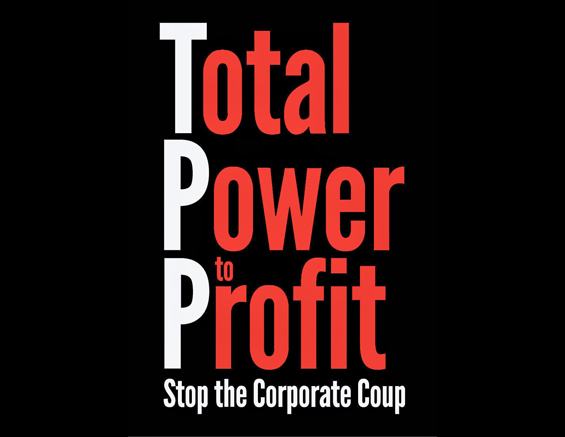 Today, General President Hoffa joined with Representatives Rosa DeLauro of Connecticut and Louise Slaughter of New York, Teamster member Jerry Reeves, and other fair trade advocates to denounce the secret negotiations for the Trans-Pacific Partnership (TPP) agreement and to warn against fast-tracking more bad trade deals like the TPP. "We're all for fair trade, but this isn't really about trade," said General President Hoffa. "It's a corporate power grab that will harm workers all over the world." Jerry Reeves, a worker at Lehigh Valley Dairies and a 20-year Teamster, also spoke about the implications the TPP could have for the U.S. dairy industry. "If this deal passes, it could threaten the livelihoods of 40,000 Teamster dairy workers."
Fast Track -- legislation that was introduced earlier this year -- would require Congress to take only a quick up-or-down vote on job-killing trade deals like the TPP, without the chance for any debate or amendments. Please email and call Congress now at 1-888-979-9806 and tell them to oppose Fast Track for the TPP and all other bad trade deals!
And for more info on Fast Track and our fight against it, please visit www.teamster.org/fasttrackwrongtrack.
The Civil Rights Movement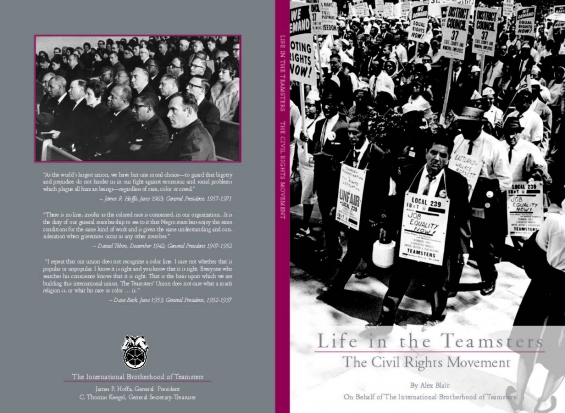 In 2010, the Teamsters Union published "Life in the Teamsters: The Civil Rights Movement" as part of the Teamster History Collection. The book details how the labor and civil rights movements worked together to achieve dignity for working families.
The Teamsters, in particular, were early adopters of civil rights for its members.
"Life in the Teamsters: The Civil Rights Movement" covers the various partnerships of the Teamsters Union and the civil rights movement, including working with Dr. Martin Luther King Jr.
In an introduction to the book, Teamsters General President Jim Hoffa writes:
The 1.4 million men and women represented by the Teamsters Union are rightly proud of their contracts, union-negotiated benefits and grievance procedures. There is, however, a world of union history that many are not aware of. Our involvement with the civil rights movement, one of the most transformative periods in American history, is another reason our members should be so proud of our history.
I have always believed the Teamsters Union to be the most inclusive union in the world, but I may be biased. I grew up hearing about the Teamsters Union every day—what it was doing for its members, what it had done in the past and what it would continue to do. One thing my father was particularly proud of, and which I remain deeply committed to, is the idea that there is no color line within the Teamsters Union.
Reading this book shows that it wasn't simply pride in his union that compelled my father to recount the union's past civil rights victories and defeats. It was his genuine care that working men and women be treated fairly by their employer and it was his lifelong goal to keep moving America forward in this respect.
My father instilled in me the values of the labor movement, which includes that everyone should be treated with dignity and respect on the job. Part of that dignity and respect includes not paying wages based on skin color.
What this book shows is that the Teamsters stand up for our members no matter what. When the prevailing winds were blowing racism through a nation purportedly built on the notion that "All men are created equal," the Teamsters stood strong.
No matter what the nation's most powerful politicians say; no matter what the prevailing norms of the American labor movement are; no matter how much resistance they faced from employers who sought at all costs to keep workers divided—the Teamsters Union will continue to fight for equality in the same ways we have since the beginning.
One of the first crucial decisions facing these workers who were coming together to form the International Brotherhood of Teamsters in 1903 was regarding this issue. Would the union fall in line with the prevailing segregation in American society and become a whites-only union? Or would it fight segregation by organizing all workers and demanding economic justice for all workers?
It was as clear in 1903 as it is now: There is no color line in the Teamsters Union.
To pick up your own copy of "Life in the Teamsters Union," contact your local union.
OUTSTANDING WNY LABOR LEADER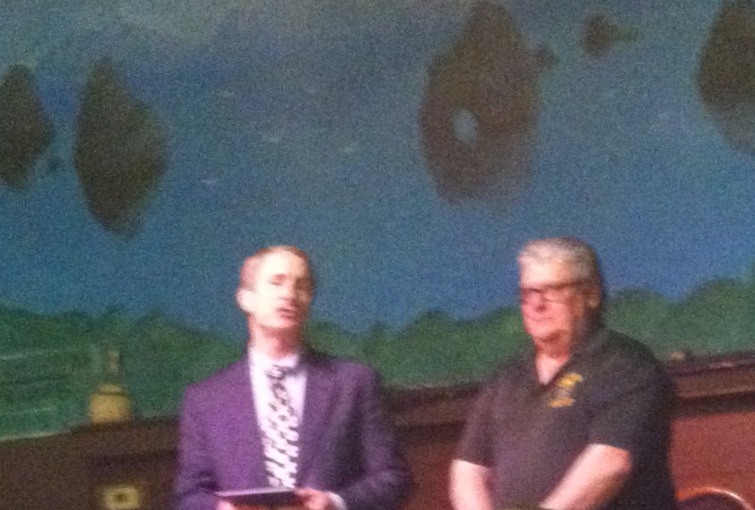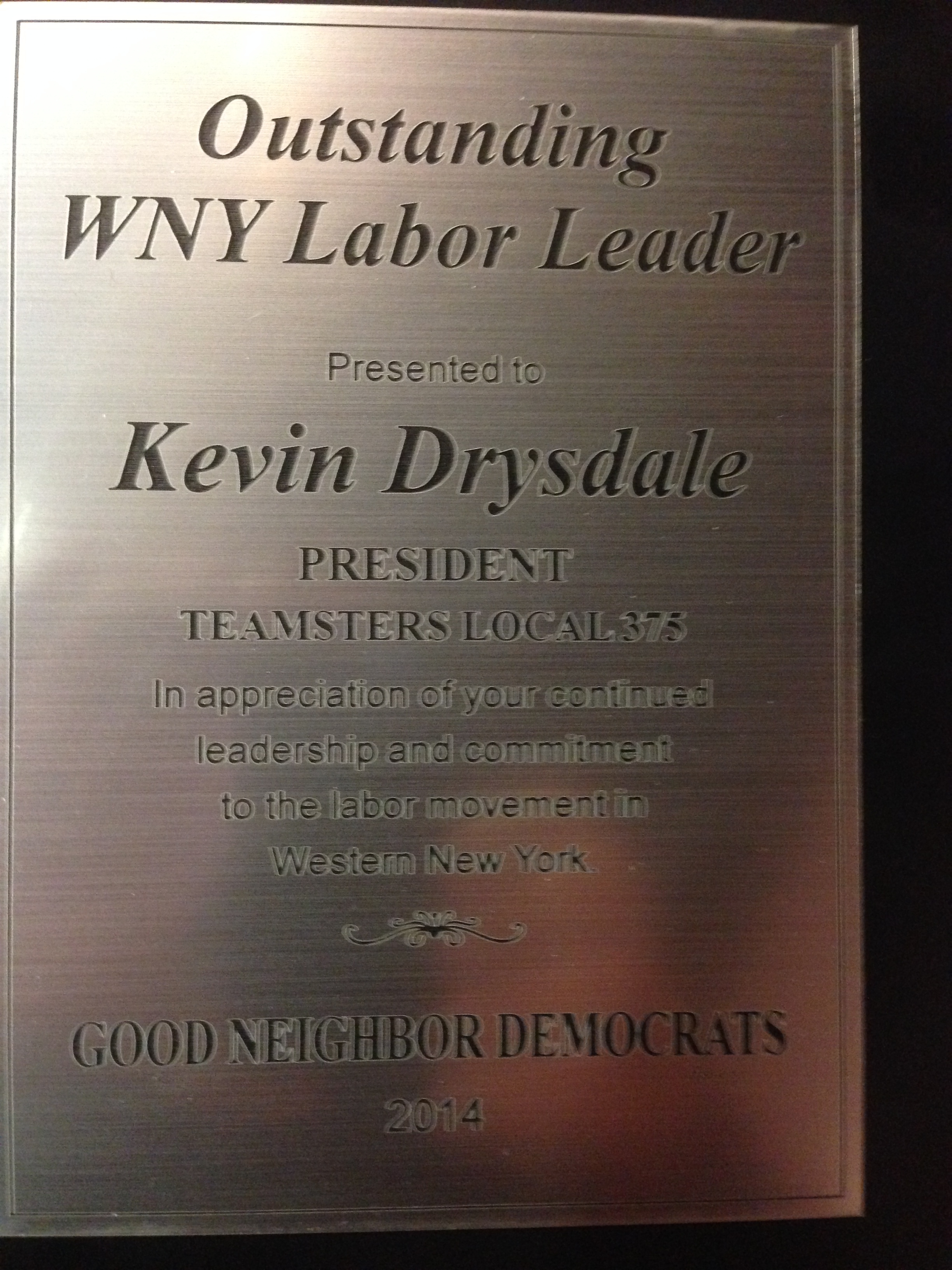 Please join us in congratulating Teamsters Local 449 Vice-President Kevin Drysdale for his recent, well deserved recognition as an Outstanding WNY Labor Leader.
Kevin, the President of Teamsters Local 375 before the merger with Local 449, was presented the award by New York State Assemblyman Sean Ryan last week at the Armory Tavern.
The award was presented to Kevin on behalf of the Good Neighbor Democrats for his leadership, courage and resolve resulting in a strong contract for the 400 plus members employed at Rural Metro Services.
Well done Kevin, you help make the Teamsters Union the best Labor Union in the country.
Proposed Amendments To The NLRB Will Help Organizing Efforts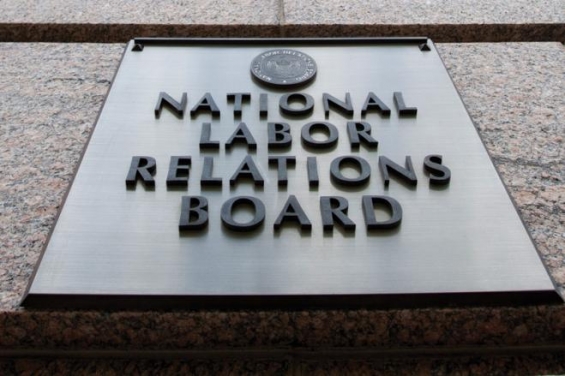 The International Brotherhood of Teamsters issued its support today for a rule suggested by the National Labor Relations Board (NLRB) which would ease and hasten union-organizing elections at private-sector companies, a move that unions have sought for many years.
The rule, if approved, would eliminate existing hurdles that can delay union-organizing votes with meritless and unnecessary litigation. The changes would streamline pre- and post-election procedures to help facilitate agreement and consolidate all election-related appeals into a post-election appeals process. Taken together, they would help stop companies from abusing the legal process to stall election votes, as many do now.
"Workers for too long have been forced to endure unnecessary delays when they have tried to start a union," Teamsters General President James P. Hoffa said. "We urge the NLRB to move forward with these changes so hard-working Americans can organize and better provide for their families."
The reforms the Board will propose would:
Allow for electronic filing and transmission of election petitions and other documents;

Ensure that employees, employers and unions receive and exchange timely information they need to understand and participate in the representation case process;

Streamline pre- and post-election procedures to facilitate agreement and eliminate unnecessary litigation;

Include telephone numbers and email addresses in voter lists to enable parties to the election to be able to communicate with voters using modern technology; and

Consolidate all election-related appeals to the Board into a single post-election appeals process.
On February 5th, Vice president Joe Biden said about the proposal, "Business and right wing backers of so-called "right to work" laws really want "the right for them to eliminate your right to have a say in your work," Vice President Joseph Biden says. And unions are "the only ones keeping those barbarians at the gate", he adds of the right wing and its business backers. "We have to organize to fight back against these unrelenting efforts to diminish collective bargaining," Biden declared. "We have to adapt, but the moment workers lose the ability to be represented" by unions, "that's the moment we all lose out."
You Can Read The NLRB Comments Here and,
The Federal Register On The Rule Can Be Viewed Here
Read an AP Article about the Amendments Here

Download:


NLRB Proposed Amendments.pdf


Labor Board To Change Unionization Rules.pdf
Teamsters Local #264 Executive Board
Seated in front row Darrin Ziemba, Secretary-Treasurer, Brian Dickman, President/PEO, John Randolph, Vice President.
Standing in the second row Jeff Ziemba, Recording Secretary, Danny Conyers, Trustee, Mark Schwab, Sergeant at Arms, John Sengbusch, Trustee, Marc Scarpace, Trustee.
Black History Is Teamster History
The contributions of black members to the success of the Teamsters Union are numerous, varied and as old as the union itself. Black team drivers attended the first Convention in 1903 and were active in all aspects of the union from the beginning. That commitment remains strong today.
The Teamsters Union has traditionally been ahead of other unions in terms of the treatment of minority members, calling for "no color line" in the union as early as 1906. The union began actively seeking to organize black men and women around the same time. Black members made up half of the executive board at the first New Orleans local in 1903 and black women helped establish one of the first "color free" contracts in the country in 1917 as Teamsters negotiated equal pay for black and white laundry women. That foundation of equality led black members to become strong advocates for civil rights and other social justice causes through the years.
General President James R. Hoffa was strongly opposed to segregation of any kind and chose to forfeit prospective members rather than abandon the principles of the union. At one point in the 1950s, he and Vice President Harold Gibbons traveled to New Orleans to lead an organizing campaign at a chemical plant but were stonewalled by white workers demanding a separate local for black workers. Hoffa refused, knowing they would lose the election because of the decision. Hoffa was angry about the loss but felt the union was better off without such racist members. "We don't need 'em," he said. "Their way is not the Teamster way."
Joe Nero, who became a member of Local 272 in New York City in 1941, remained a proud Teamster until his death in 2004 at the age of 103. He always maintained that unions were the best thing to happen to black workers.
"The Teamsters did me right and gave me a good life. They didn't care if I was black or white," he said. "Being in the union was the difference between a good life and a tough one. Always was, always will be."
This does not mean it has been an easy road for minorities in the union. Black members made up a smaller segment of the union and often faced many of the same prejudices from individual fellow members on the job as they did in society at large. But they had the courage to stand fast and demand respect and dignity for themselves and their families. We are all richer for it.
UPS Local 135 Rider Passes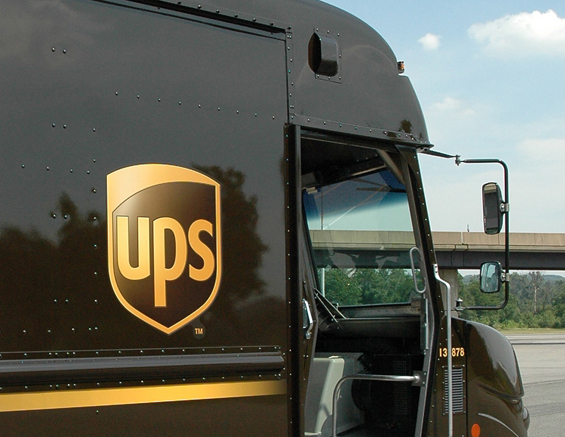 The UPS Local 135 Rider has passed by a vote of 551 to 357. Four supplements and riders have yet to be resolved.
Take part in tomorrow's day of action against Fast Track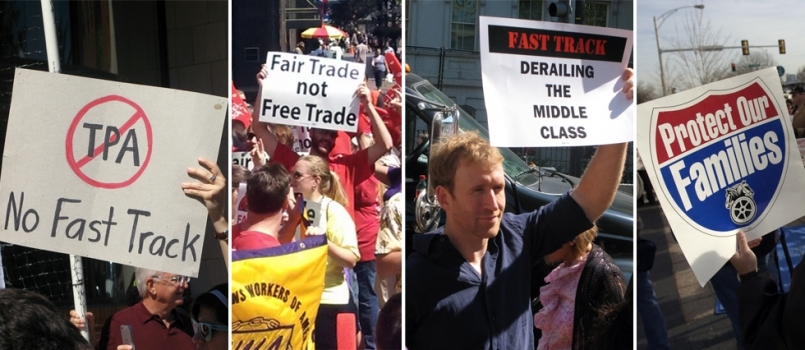 Tomorrow, January 31st, people across North America will be taking part in an Inter-Continental Day of Action against Fast Track and the Trans-Pacific Partnership (TPP). The TPP is another bad trade deal that could become the law of the land without any debate or amendments if Fast Track legislation is allowed to pass. We can't let that happen! Please be sure to call your Representative and Senators tomorrow at 1-888-979-9806 and tell them to vote NO on Fast Track.
And if you're able to, please join one of the many events that are being planned nationwide for tomorrow. A listing of events can be found here.
Thanks again for all your help…let's keep up the fight! For more information, please visit www.teamster.org/fasttrackwrongtrack.
Teamsters at YRCW Approve Agreement Aimed At Saving 30,000 Jobs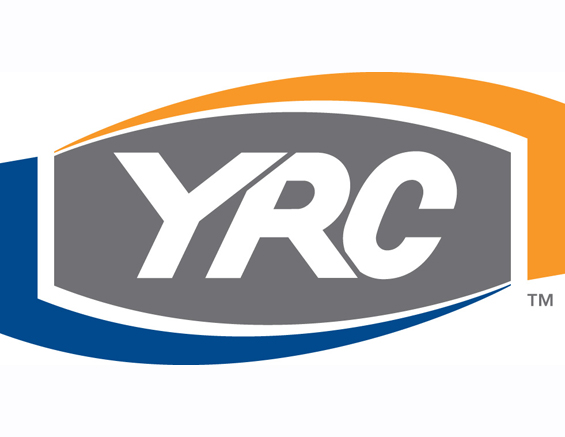 Teamsters working for YRC Worldwide Inc. (YRCW) have approved a tentative agreement aimed at protecting more than 30,000 jobs. Workers voted this weekend after rejecting a prior company proposal. Teamsters at YRCW approved this latest proposal by a vote of 12,267 to 6,314.
Vote results can be seen here.
"This was a very difficult vote for our members, but in the end they did what they believe will give this company the best chance to stay in business and protect their jobs," said Jim Hoffa, Teamsters General President and Co-Chairman of the Teamsters National Freight Industry Negotiating Committee (TNFINC). "Now we will hold management's feet to the fire to make sure our members' jobs are protected and redouble our efforts to make sure this company handles its finances responsibly."
The plan will provide a pathway for substantial debt reduction and refinancing initiatives that will permit the company to protect jobs.
"Once again, our members' sacrifices are providing the lifeline for the company," said Tyson Johnson, Director of the Teamsters National Freight Division and Co-Chairman of TNFINC. "Now we fully expect the company to successfully conclude the deleveraging and refinancing components of the restructuring to once and for all put this company on a sustainable path."
The agreement approved this weekend contained significant improvements over the company's prior rejected proposal.
On Jan. 9, a ballot count revealed that an initial company proposal was soundly rejected by over 19,000 Teamster members who voted over several weeks.
Take Part In The Teamster National Day of Action Against Fast Track
Today, across the country, Teamsters will be doing their part to oppose Fast Track by calling and emailing their Representatives and Senators. Will you take part too? We need to make sure Congress doesn't pass Fast Track and make it easier for job-killing trade agreements like the Trans-Pacific Partnership to become law.
There are four easy things you can do to help:
1. Call your Representative and Senators at 1-888-979-9806 and demand that they vote NO on Fast Track. If no one picks up, please be sure to leave a message.
4. Spread the word! Tell your family, friends, neighbors, and coworkers.
By-Law Amendment Proposals
As a result of the cancellation of the January meeting due to the snow storm, any By-Law amendment proposals will be read at the February meeting.
If any proposals are presented, they will then be read again at the March and April meetings and voted at the April meeting.
Gov. Cuomo Enacts Most Comprehensive Legislation in Country to Combat Worker Misclassification
NEW YORK, Jan. 10, 2014 /PRNewswire-USNewswire/ -- Today, Teamsters Joint Council 16 expressed their thanks to Gov. Andrew Cuomo for signing the New York State Commercial Goods Industry Fair Play Act (A5237B/S5867) and giving the Empire State the strongest worker misclassification legislation in the country.
More than 120,000 New Yorkers are employed by the commercial trucking industry, and many have suffered loss of wages and financial difficulties due to misclassification. The Fair Play Act redefines the definition of an employee in the commercial trucking industry, protecting commercial goods transportation employees from being misclassified.
"Every year, states across the U.S. lose billions of dollars because of loss of revenue from income tax, unemployment insurance taxes and workers' compensation premiums due to worker misclassification," said George Miranda, President of Teamsters Joint Council 16. "Workers and contractors in the industry suffer because of lost wages and responsible businesses face unfair competition."
Joint Council 16 worked with the New York State Motor Truck Association to ensure that the Fair Play Act provides coverage for both employees of the commercial trucking industry and legitimate independent contractors. Their efforts received strong and unprecedented support from both houses of the New York State Legislature.
Under the new regulations, 28,000 truck drivers who are misclassified each year will be properly classified. This legislation comprehensively covers trucking companies in NYS including larger companies such as Fed Ex Ground and UPS. The bill also includes historic levels of civil and criminal penalties against employers in the industry who purposely misclassify drivers.
"This legislation goes a long way in protecting the drivers, the industry and our economy," Miranda said. "That's how we will build a stronger middle class here in New York. We applaud the Governor's courageous decision and thank him, Assemblymember Keith Wright and Senator Diane Savino for making the commercial trucking industry a fair workplace."
TEAMSTERS TAKE ACTION
  The New York State Thruway Authority is about to lay off 150 fellow Teamsters while refusing to negotiate to cut costs and save money for the taxpayers of New York State.  It is time for Governor Cuomo to hear from us.
Read More...